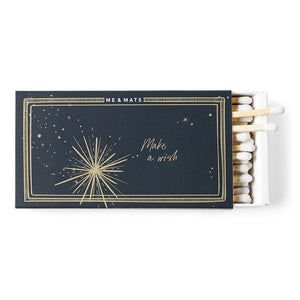 The sentiments of the Me&Mats collection of candles and bath products makes them ideal for thoughtful gifts, both for the highs of celebration and those moments of uplifting encouragement. Each item in the collection is decorated with beautiful branding, giving it a luxurious feel. 
The 'Make A Wish' gift box of matches is adorned with script-like lettering and a golden galaxy of stars illustration. The matches are a perfect little treat for yourself and are ideal as a birthday gift or to bring out to light the candles on the birthday cake! 
The Me&Mats ethos resonates with our own: to appreciate the little things in life and celebrate them with those who are precious to you.
Each box contains 45 long matches.